Creative kids
Creative Kids
This page we hope to fill up with ideas to keep creative kids busy. If you have any suggestions or would like to request specific ideas please get in touch!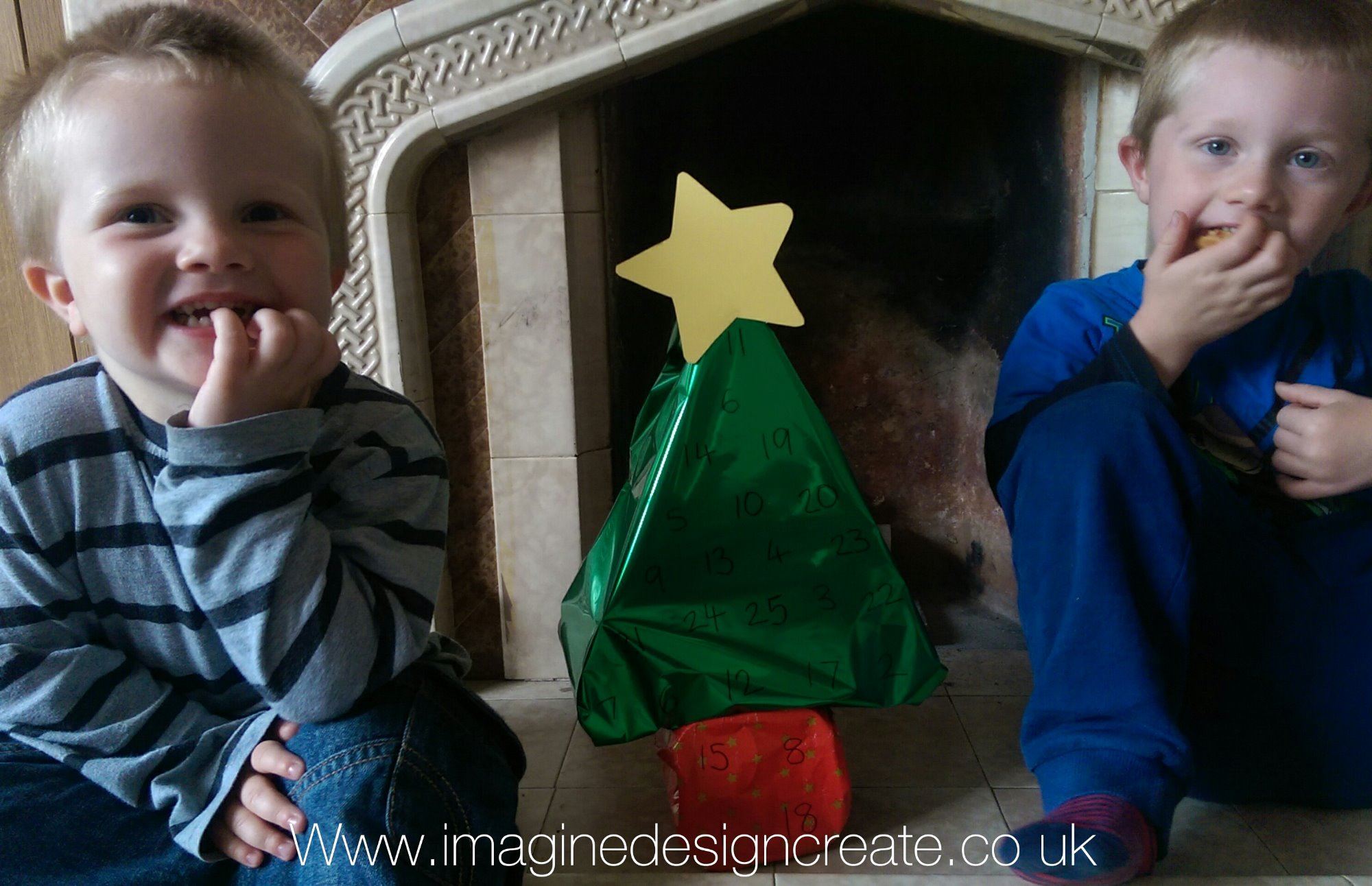 Up-Cycled Advent Calendar 'Create with Kids' Looking for a festive activity to do with the kids? This step by step guide will help you to turn old toilet roll tubes into a homemade advent calendar and keep the kids quiet for a little while, BONUS!
Equipment needed: Pencil Pen Scissors Glue Cellotape Piece of yellow or gold card Stapler (with staples in it!) Rolls of paper Toilet tubes (25) Treats to fill the tubes
1. Layout your tubes into the design of your choice, we chose to create a tree shape but you could do a star, bauble or anything else you fancy. Once you are happy with the layout of your tubes begin to staple them together. (This job is best for mum to do!)
2. Once all the tubes are stapled together lay your design onto your roll of paper. Firstly draw out the design leaving extra room to cover the sides, once you are happy you have the right size cut out the paper. (If you would like to cover the back after filling with treats cut an extra piece of paper out now)
3. Lay the paper over your design and glue, cellotape or staple (depending on your preference and the age of the children helping you) onto the tubes. Ensure that the edges are covered and that the front has no creases in it. This will make it easier to see where to put your numbers and punch the holes when it is time to open!
4. Now that the front it covered turn it over to show the open tubes. Fill each tube with your chosen treats. If you plan to cover the back of the calendar use the extra piece of paper you cut to cover once all the tubes have been filled. We don't need to cover the back of ours as it goes up against the wall.
5. Next you need to add the numbers, we used a black permanent pen for this but you could also use number stickers. This is a great job for the kids to do but they will need to help to ensure they put the numbers in the right places to match up to each tube.
6. Draw a star shape onto yellow or gold card, cut it out and stick it onto the top. If you are feeling really creative why not add some extra embellishments such as stickers, ribbon or even glitter (If doing this be prepared for lots of mess!)
TA DA! You have created a homemade advent calendar
This is my son Reuben age 4.
Here he is cutting up an old magazine, sticking Avengers characters onto a page and labelling them with their names.
This activity encourages; cutting, sticking, writing letters, forming words and talking about personal interests.

Products used:
Scrap book
Glue stick
Handwriting pen

Other items:
Old magazines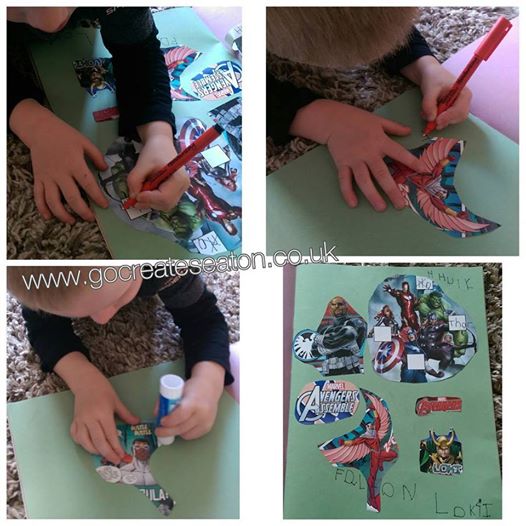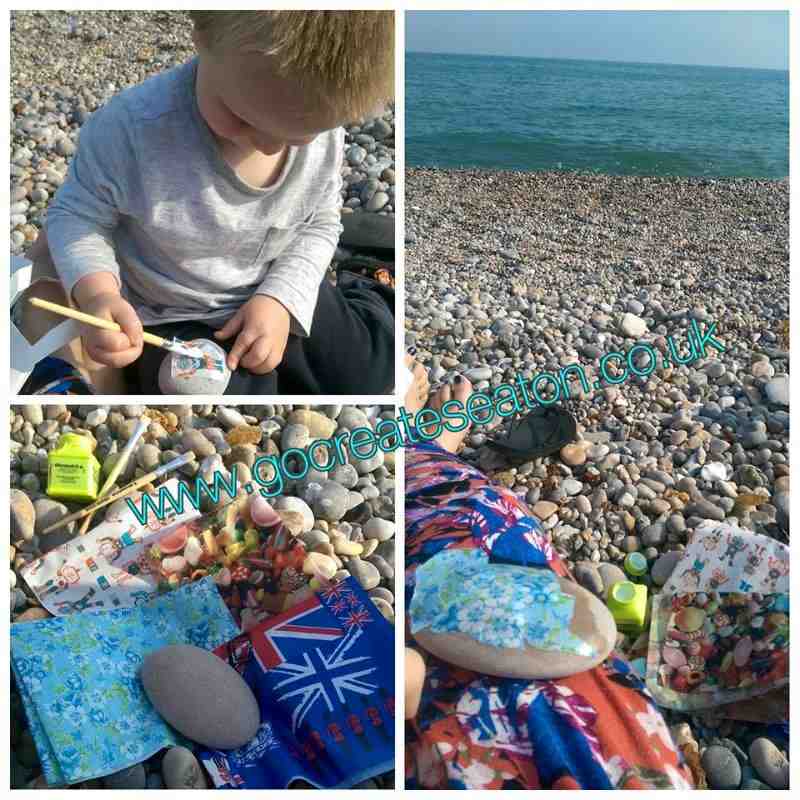 If you are looking for a simple activity that can be done indoors or out that creates a beautiful finished product try decopatching!
This is my son Finley age 3 decopatching some pebbles at the beach!
This activity encourages the correct hold of a paint brush, consentation, pattern matching and being creative.

Products in use:
Decopatch papers
Decopatch brush
Decopatch glue

Other items:
Pebbles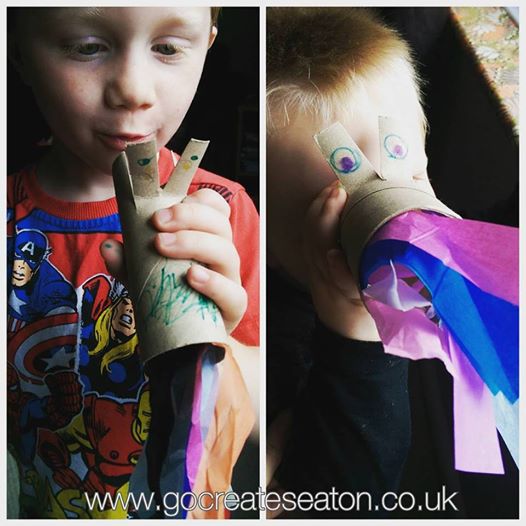 If you are looking for a simple activity to do with children on a tight budget toilet start saving your toilet tubes! There are so many things you can create with toilet tubes it is mind boggeling!

This activity encourages creativity, role play and imagination and the use of pens / fine motor skills.
Products in use:
Tissue paper
Felt Pens
Cellotape
Other items:
Toilet tubes
Outdoor Collage Making
Age: All ages
Messy Stars: *
Budget: Under £2
You will need: A Little tub & Piece of paper (any colour but i find white works best)
1. Take your child into your garden or to a local park to collect up little sticks, leaves & petals
2. Grab your piece of paper & your tubs of bits and pieces sit outside in your garden or even still at the park and have fun creating different pictures, you could ask them to make specific things like â€ËÅâ€Å"a flowerâ€ââ€Å¾¢ â€ËÅâ€Å"a boatâ€ââ€Å¾¢ or let them experiment with shapes and patterns.
You donâ€ââ€Å¾¢t need glue because the fun bit is you can keep changing the pictures around then when you have finished playing pop the bits in the compost bin & save your paper for next time!
This is my son Reuben, 16months old having a go at Outdoor Collage Making.
This is Olivia age 3 & Reuben age 4 taking part in a Creative Play session held here at Go Create Seaton.
They created hot air balloons using paper mache techniques and then decorated and embellished.

This activity encourages creativity
Products in use:
Craft planet PVA glue
Craft planet tissue paper
Craft planet Glitter
Kids brushes
Craft planet scissors
Ribbon


Other items:
Balloon
Paper cup